Wake Up Call! – Loving Kindness To You
LOVING KINDNESS TO YOU

I've heard from so many of you about your stress, anxiety and sleeplessness about events in the world and particularly the US presidential election. Be kind to yourself and all of those whom you encounter. I hope this loving-kindness meditation will be helpful to you: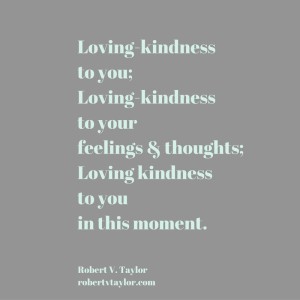 PRACTICES:
Use this meditation mantra whenever you are feeling anxious, stressed or discombobulated
Notice how it shifts your grounding!

Get a daily inspirational thought from Robert on Facebook

Share this newsletter.
*|SHARE:facebook|* *|SHARE:twitter|* *|SHARE:google|* *|SHARE:linkedin|* *|SHARE:delicious|* *|SHARE:digg|* *|SHARE:stumbleupon|* *|SHARE:newswire|* *|SHARE:slashdot|*
Share this link with a friend for their free subscription to Wake Up Call!
©2016 Robert V. Taylor