Robert V. Taylor's Story
LIVING BEYOND LIMITATIONS
What labels do you use to describe yourself and others each and every day?
Who could you be without them?
Are you brave enough to try?
What will it take to leave them behind?
These are some of the questions that Robert V. Taylor has faced throughout his lifetime. Growing up in South Africa during the 1970s, at the height of the apartheid movement, Robert saw and felt the horrific label of racism.
"I worked as a freelance correspondent for a radio station which beamed stories from Ethiopia and Zambia into the South African government's tightly controlled media world. At the time it was illegal to own Mandela's writings and a criminal offense to portray his image in public. Crossing the border from neighboring countries, my anxiety and nervousness were high when smuggling those writings and recorded interviews back into South Africa."
Robert's anti-apartheid work led him to refuse to be drafted into the South Africa Military which was compulsory for all white males; a refusal that came with life imprisonment. Faced with the label of being a "traitor" or a "collaborator" he knew he could not accept that apartheid was "the will of God."
"I went to see Archbishop Desmond Tutu for advice on how to survive imprisonment. Instead, he told me that I would not go to jail, but that he would arrange for me to leave the country." 10 days later Robert arrived in New York City and began graduate work that deepened his life's calling to help people experience a oneness with others grounded in compassion, love and mercy.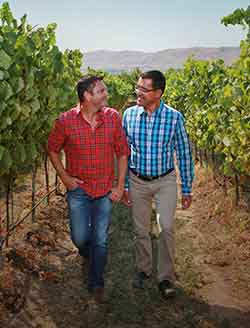 As an ordained minister, Robert became an activist in helping the homeless and those suffering from the HIV/AIDS crisis. This work gave him firsthand experience dealing with the personal and political labels imposed on people living under unfortunate circumstances.
During his personal journey of self-discovery, Robert was able to transcend the limits of living with labels when he publicly revealed that he was gay. In 1999, his courage was rewarded when Seattle's Episcopal Cathedral elected him as the first openly gay Dean of any Anglican Cathedral in the world. In 2008, he resigned from this position to become a sought after public speaker, media commentator and noted author.
His speaking engagements include MIT, Stanford, Young Presidents' Organization (YPO), Holland America, professional conferences, and the Dalai Lama Center for Transformative Leadership.
He is a TV personality and regular contributor to the Huffington Post, Fox News, NBC News and the Washington Post, among others. He is the best-selling author of A New Way to Be Human and the forthcoming Beyond Limitations: Living the Questions of Courageous Love, and Reboot Your Life in 21 Days.
He is a graduate of Rhodes University, South Africa, and Union Theological Seminary, New York.  Robert is President of the New York based Desmond Tutu Peace Foundation and lives on a rural farm near Seattle, Washington with his husband, Jerry.
Robert V. Taylor is committed to helping people get out from under the stigma of labels in order to live a LIFE WITHOUT LIMITATIONS.