Speaker & Activator
SPEAKER & ACTIVATOR
Opinionated, outspoken and optimistic, Robert V. Taylor advocates creating change in the world through combining compassion with courage. His inspiring life story is the foundation for his work in helping others to recognize and utilize the power of their personal stories.
An in-demand keynote speaker, Robert's passionate message and dynamic personality make him a distinctive and highly desired speaker at corporate, private and non-profit events.
His speaking engagements include MIT, Stanford, Young Presidents' Organization (YPO), Holland America, professional conferences, and the Dalai Lama Center for Transformative Leadership.
He is a TV personality and regular contributor to NBC News, the Huffington Post, Fox News and the Washington Post, among others. He is the best-selling author of A New Way to Be Human, and the forthcoming Beyond Limitations: Living the Questions of Courageous Love, and Reboot Your Life in 21 Days.
Working with the world's most noted peacemakers, Robert has spent a lifetime fighting injustice. His personal ordeals have fueled his passion to help others live beyond their own fears and obstacles.
Robert's methodology gives you the tools needed to LIVE BEYOND LIMITATIONS and to build a life based on the genius of being your authentic self.
Robert invites his global audience to join him through his
speaking events, social outreach, media appearances, written articles, books and newsletter.
KEY AUDIENCE and BENEFITS
Executives wanting more from their careers and personal lives, people who may feel overwhelmed, disillusioned or trapped.
Busy professionals whose careers have been so consuming that their personal lives have taken a backseat.
Fearless millenials who are starting on their path towards personal and professional success.
The LGTBQ community who are often restricted by the oppressiveness of labels.
SPEAKING HIGHLIGHTS
At a TEDX SPEAKING ENGAGEMENT, Robert discussed the potential of "Positive Disruption." A sense of disillusionment can be welcomed as the disruption needed to incubate a new way of thinking, a renewed purpose and increased personal growth.
With BILL AYER, CEO OF ALASKA AIR GROUP, Robert introduced to the Young Presidents' Organization the "power of story" in helping integrate their professional and personal lives.
At STANFORD UNIVERSITY, Robert spoke on how to cultivate compassion in our everyday lives. This talk was part of a series that included Eckhart Tolle and Thich Nhat Hanh.
At MASTER CLASSES IN LOS ANGELES, Robert engaged leaders in the high tech, social media and advertising sectors on how "extreme success" is often predicated on overcoming "extreme fears and challenges."
He has HOSTED HIS HOLINESS THE DALAI LAMA AND ARCHBISHOP TUTU in thought provoking discussions about the power of compassion.
At MIT, Robert spoke on how to be a leader in the midst of conflict and adversity.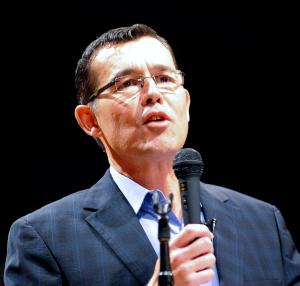 SPEAKING TOPICS
Living Beyond Limits
Positive Disruption (TEDx Talk)
Discover the Power of Personal Story
Leading in the Midst of Adversity
Becoming a Mindful Leader
The Power of being an "Outsider"
Wake Up Call!
Click here to book Robert for your event today.
Full speaking engagement list provided upon request.